April 12, 2019 | Blog | No Comments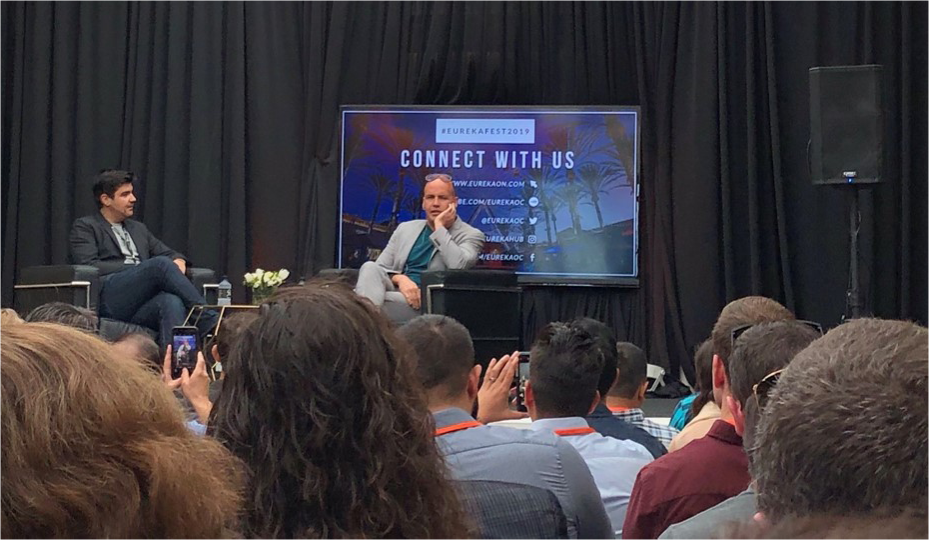 For me, the best movie villains make you hate that character for the rest of your life.
The top film villain on my list would have to be Hans Gruber from the original "Die Hard."  For the rest of his career, I couldn't watch Alan Rickman in anything else without connecting the actor to Hans in my mind.
A close second in movie villainhood for me is Caledon Hockley, the forever smug, privileged, murderous rich kid from "Titanic" played by actor Billy Zane.
Having appeared in his share of successful movies, Zane obviously knows how to tell a story.  That's why I looked forward to attending his keynote titled "The Art and Science of Storytelling" at EurekaFEST in Irvine on April 6.  Afterall, he's only villainous in character, not in person.
Zane currently runs The Convergence Lab, a technology research incubator and fund operated in partnership with Caltech's office of Tech Transfer. The mission of his company is to build a bridge between the best scientific minds and Hollywood storytellers to help secure R&D funding and IP licensing for innovations in the fields of AI/machine learning, AR/VR, autonomous systems and more.
The actor provided a lot of sound advice to the crowd of tech entrepreneurs on navigating their way through the startup minefield.  However, the advice that resonated most for me as a professional communicator was:  In the age of the tech backlash or 'techlash,' it's best to communicate the human side of your company's story as early as possible to as many audiences as possible.
As Zane said, there is a growing apprehension in the general public regarding the tech industry these days.  People are much more wary of tech giants such as Facebook and Google in having their best interests, much less the broader interests of society, at heart.  Politicians have taken notice, and many are calling for legislation to restrict their power and influence.
Zane explained that he keeps his kids away from most current technology and content, instead having them focus on entertainment that validates common human values and bolsters the social contract.  He pointed to older Hollywood movies such as "Singin' in the Rain" and "Chitty-Chitty Bang-Bang" that championed kindness, generosity and silliness as examples.
"The goal of our age shouldn't be to simply build better technology," Zane said.  "The goal should be to build better people and a better world."
As Group Director for Technology at HKA, I couldn't agree more.
Having represented tech companies large and small for more than two decades, I've seen too many tech firms, enabled by their all-too-accommodating PR agencies, get far into the weeds of their "solutions" without ever providing the all-important why.  Too often, marketers focus on telling their stories to themselves, or to a very limited number of potential early adopters, rather than the larger business community, media and society-at-large.
The key, as Zane correctly pointed out, is to "anthropomorphize" your company by being clear from the start about your motivations and aspirations.  Build a wellspring of early supporters who are cheering for your success, have them understand the people behind the technology, and show them how you will change the future for the better.
Zane said that building this goodwill early will also help your company through any "single point of failure," and investors, partners and customers will stay with you through to the end.
To do this, you need storytellers who understand the broader human aspects of your company's journey and how to tell a story simply.  That's where HKA can help.  While we know tech, HKA is a generalist agency that also works with nonprofits, professional services firms and other people-focused industries.  With each client, we dig deep to find the compelling human side of their stories, and we build a narrative over time among influential audiences that leads to impactful results.
The moral of this story?  HKA can show you how to be a tech hero.
And in that vein, we should mention that Zane's company is conducting pro bono work for Children's Hospital Los Angeles and its Innovation Studio at the Gamifying Pediatrics Hackathon today through April 14.  The goal is to "transform pediatric healthcare through mobile games, virtual reality, augmented reality and immersive digital experiences."